Dates in cosmetology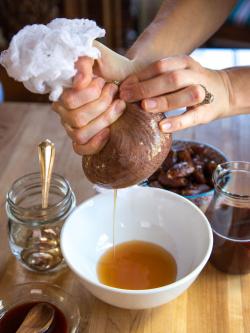 Dates in cosmetology.

Since ancient times, these fruits were associated with prosperity and fertility, and today the dates are successfully used not only as food but also in cosmetics and medicine. In the chemical composition of this fruit includes vital vitamins and microelements, which support our body in shape and give beauty.

Extract of tamarind, which are so fond of the fair sex, it contains tannin – a substance that makes skin elastic. The carbohydrates present here in high concentration, moisturize and restore the skin. Slow aging and protect the skin from harmful external factors – that's what gives the extract tamarind.

Effect of the extract of tamarind is not based on the direct influence of any substances on body functions and on the activation of processes in it. Therefore, the body is rejuvenated and restores the function of the skin.

The active ingredients of dates and their effects
Anti-inflammatory and immunomodulatory effects on the body have phytosterols, which are contained in the fruit. Triterpene compounds and phytosterols support the skin tone and slow the aging process.

Another anti-inflammatory substance, which is part of the date is ursolic acid. This ingredient restores skin and removes from it harmful substances. Not deprived of this fruit and phytoestrogens, which are beneficial as a whole on the female body, activating processes of rejuvenation. Beta-carotene helps to rejuvenate skin and easy to remove Horny layer. High chemical activity of this substance prevents the impact of harmful factors on the skin.

Care for all skin types
Extract tamarind is appreciated throughout the world because he is able to fight all age-related skin changes. He nourishes it with nutrients and stimulates the body at the cellular level. This is a truly valuable component in the set of a professional cosmetologist. If you want to have supple, moisturized silky skin – extract tamarind best to help you in this! One example of skin care with the help of dates is a face mask. Take 6 dates, remove their seeds and crush with a meat grinder. Add in the resulting composition 20 ml of olive oil, stir until smooth and apply on face. Rinse with warm water after 20 minutes and your skin will "thank you"!

In 2016, OOO "ECO-SIS" together with "Stavros" has developed a new cosmetic line under the brand name "Actinic" to care for hair, face and body from the "Vitamins from Nature". They are unique only because the main active ingredient in their composition of date syrup is cold pressed!

Date syrup is a unique product that contains a huge number of vitamins and minerals such as vitamin A (essential for eye health, skin and immunity), B1, B2 and B3 (responsible for the effective functioning of the nervous system) (involved in the production of collagen and elastin, strengthens blood vessels, favors the absorption of iron).

Syrup of figs is an excellent source of potassium, phosphorus, magnesium. Also it contains zinc, chromium, sodium, iron, calcium, manganese. Some compounds contained in the dates and its syrup, is a powerful antioxidant known for its ability to protect against the development of serious diseases and early aging.

Noteworthy date in the product and natural salicylates that help to cope with the pain show an effect similar to the action of aspirin.

Thanks to this combination of syrup of figs:
- regulates metabolism,
- strengthens the body,
- helps to calm the nerves,
- helps regulate blood sugar, cholesterol and triglycerides in the blood,
- improves heart function,
- is a natural source of energy for physically active people
- has anti-inflammatory, antimicrobial action.
The date syrup helps to cope, in particular, with such terrible bacteria, such as Рseudomonas aeruginosa (Pseudomonas aeruginosa) and Staphylococcus aureus (Staphylococcus aureus). It was established that from this point of view, the syrup of figs "works" very effectively. This effect is provided present in the product phenolic compounds. Among other things, the dates (and, hence, a syrup of them) are considered to be aphrodisiac.

All of these extraordinary properties have enriched our cosmetic products that made them original and very effective.

In this line of products includes:

shower gel. Volume 30ml, 100 ml (plastic bottle with dispenser)
shampoo for hair volume 30ml, 100 ml (plastic bottle without dispenser)
conditioner for hair volume 30ml, 100 ml (plastic bottle with dispenser)
- a body lotion 30ml volume, 100 ml (plastic bottle with dispenser)
In the base comprises:

Oil with cedar resin 5%, black currant.

Extracts of: chamomile, calendula, horse chestnut, burdock, rosehip, black currant, nettle, calendula, mother and stepmother, succession, sea buckthorn, thyme, burdock, horsetail, clover, oats.

As well as: date syrup, panthenol, wheat proteins.


Shower gel "ACTINIC - Shower Gel" on the basis of date syrup cleans and nourishes your skin, enriching it with vitamins and minerals, improves its protective function and calms the skin, makes it supple and elastic.

Body lotion "Ecofinik - Body milk" successfully consolidate the achieved gel effect, complements the silky and coats the delicate flavors.

Shampoo with date syrup "Ecofinik - Shampoo" suitable for all hair types. Nourishes hair and hair follicles, helps to start the regenerative processes, improves the structure of hair. Soft washing base carefully cleans the scalp from dust, sebum, residues of styling products.

Hair conditioner "Actinic - Fresh" gives elasticity and fluffiness, vitamins and minerals, deeply nourishes and moisturizes the hair, provides Shine and easy combing.

Day cream for the face, "Actinic - Day of light" provides a gentle and soft vitamin care. The consistency of the emulsion is easily applied to the skin, preventing it from drying out and retains its natural elasticity and softness for long.

Mask-scrub for those "Ecofinik - Face mask" - the perfect cleaning and repair skin, tired during the day from external aggressions. The inner shell of pine nuts, date syrup, combined with water and natural detergents, perfectly cleanse and nourish, improve cellular respiration and eliminate toxins.

Night cream for face "Ecofinik - Night moon" - a means of intensive care of excellent quality. It works when you are resting! The maximum concentration of date syrup and extracts of medicinal herbs restores and renews the skin, smoothes the skin and provides elasticity and radiance.

Currently we are working on developing the range of date cosmetics. On stage preparations for body care, bath products.

"Halal" certified.



| | |
| --- | --- |
| Разместил: | Afanasyeva Yulia Viktorovna |
| Источник: | Собственная информация |
| Учетная запись: | ECO-SIB |
| Дата: | 28.04.17 |
Фотогалерея статьи